2018 Year In Review
2018 was a significantly big year for PBN; one filled with firsts and exciting skill development. not only was it the first full year of running the business but it was the first for selling at festivals, running events, growing my own dyes and trying out a handful of new techniques and patterns.
Although it didn't kick off to the greatest start and may not have been the most productive craft stall wise it certainly was an incredible step forward into a world, I want to truly be a part of.
At the beginning of the year we moved into a new home where I had plenty of space to experiment and develop PBN's style and outlook; that's right, no more bending over the bathtub dying indigo or feeling cramped in my 1.5mx1m craft room. I had finally had outside space a garage as well as a lovely studio space that I could simply roll out of bed and to dive into before I've even made my first batch of morning coffee.
With all the new space came great opportunities to try the messier work of hand dying my products as well as continuing with block printing. I began frantically searching the web for books on foraging and growing your own dyestuffs as well as scouring over blogs on which food wastes products were better for dying with rather than just making stains with.
After various conversations with other creatives and green thumbed friends I started out on buying a eucalyptus tree, plenty of carrots and beets – because I love roasting these together and finally Amaranthus- Hopi Red Eye variety.
I was a little disappointed to find out the beetroots, although incredibly vibrant on the chopping board, are a fugitive dye and not best for making sellable products with. Carrot tops where a great bi product from the kitchen and made for an incredible variety of greens and yellows the eucalyptus was always going to be a winner for me but as it was only a little plant when I purchased it decided to make very little with it until 2019. The Amaranthus was a little bit of a tragedy, it showed promising vibrant pinks and came out of the dye bath amazing but as soon as you rinsed the [very] smelly residue and remnants off the colour ran out and down the drain along with my dreams of natural pinks; after a second solar dye bath I decided "maybe curing would be the solution" although some of the colour has stayed on the textiles so too has the smell and isn't as exciting as I had hoped for.
With new colours and inspiration came new products. This year I set out a very clear aim to produce waterproof/resist washbags that were completely eco-friendly so you can imagine how excited I was to find out the majority of bees in Cardiff are all sourced form one local organic farm within cycling distance to my house! Without a shadow of a doubt I dashed over to Natures Little Helpers to grab myself a tub or two of natural beeswax ready to add to my receipt.
Although a lot of work and head scratching went into making my first wash bag -I'm talking months of growing the dyes, hours at the sewing machine and about 2 weeks of product design- it was completely worth if to say I have made that item completely from scratch and used locally sourced materials wherever possible.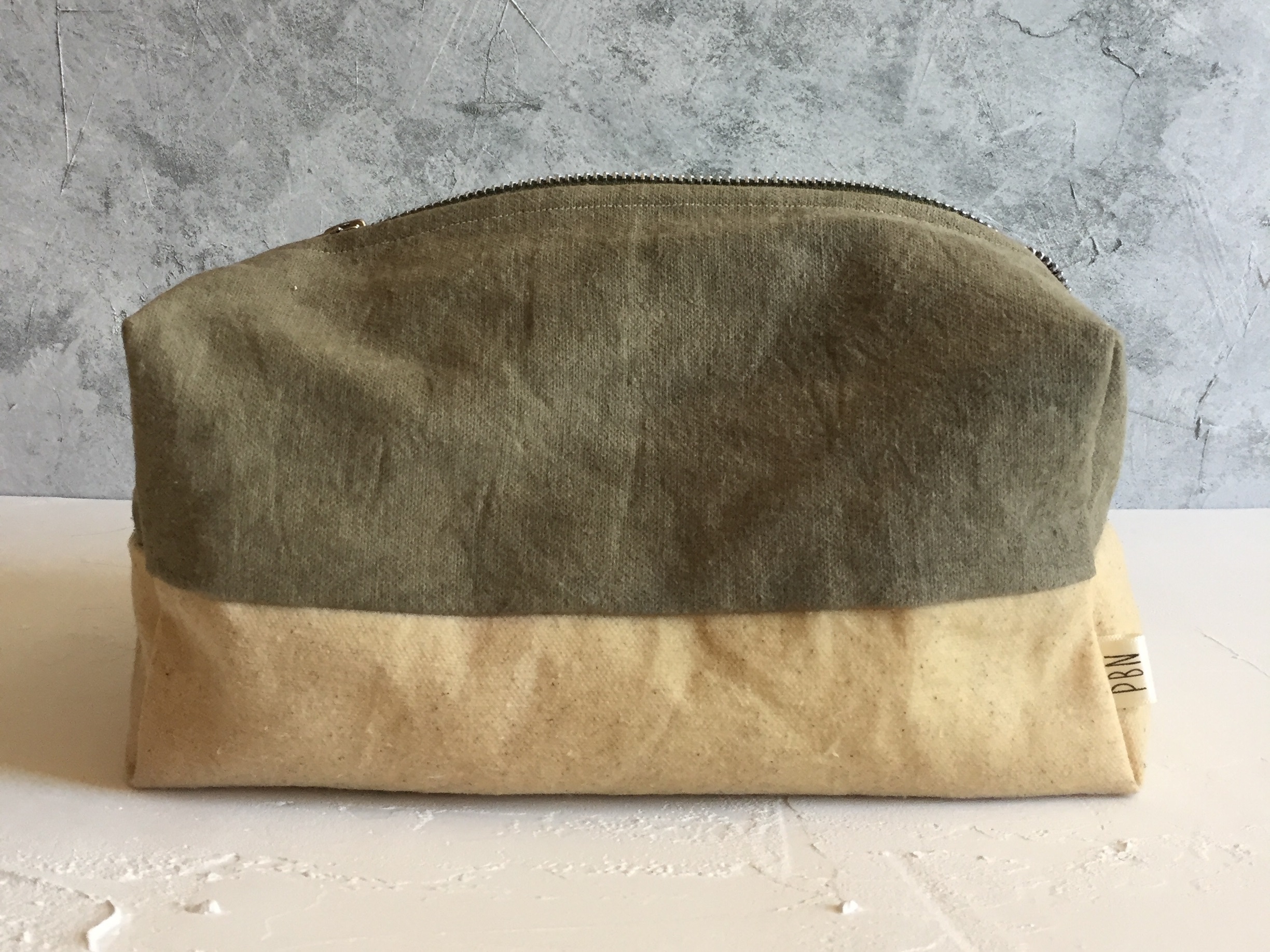 All natural Hand-dyed Waxed Canvas Wash Bags
The sad news was that as soon as I had finished my first wash bag, I was already at the end of my fabric stockpile and couldn't continue making any more without waiting for a 3 month back order from my supplier. Being an organic and sustainable brand means I like to provide consistency and support to the businesses I work with, knowing that my money goes directly towards supporting a better environmental and economical choice means the world to me. I love supporting the Genesh Organic textile farms in Kerala, India and was heart broken to hear the news reporter announce the monsoon that hit the area and surrounding cities in July was the worst monsoon season in 100 years. Thankfully the family, farmers and workers weren't harmed but it of course had a direct impact on there livelihoods and production, which in turn made me appreciate and value their hard work and skills even more so.
Toward the end of 2018 I also began foraging for dyes local to where I live, sparking great inspiration to do a look arts based textile project that I hope to continue for many years to come. As I had missed the majority of the years seasons, I was lucky enough to stumble across a black walnut tree that was in prime picking season. I can't begin to describe the incredibly citrus fresh scent that comes with picking these husks, it made for a very pleasant morning stroll through the park and they've certainly made the top of my list of favourite smelling dye stuff so far.
Throughout the Year I helped run and organise Cardiff and Valleys Etsy Made Local. A huge task and certainly something I was not expecting to enjoy and love as much as I did, supporting local artisans and creatives is of huge importance to me and I certainly came away from the whole experience feeling confident that I could possibly start planning a few more events in the future. The only downside to running the event was the massive number of gifts I ended up getting for myself or on behalf of my fiancé
On the run up to Christmas I gained a lot of local support and interest in my product and processes, with various people asking about hosting workshops and talks, I must admit this is possibly the biggest confidence boost that I've received in that my business is something of interest and importance to the local creative and sustainable scene. I'll be honest it is also at the top of my list for "things to do in 2019"
Craft fair wise I enjoyed this year's Christmas season much more and it seemed that all my hard work and natural dye products were a Christmas gift choice. Selling out of all my beeswax food wraps and majority of my zipper cosmetic/ wash bags. As I made a lot of these products pretty late in the year it was a great relief to see them flying off the stalls, certainly something I will pursue further in the coming months.
2018 overall has been a stressful, challenging but generally a creative and developmental year. With plenty of downfalls but a lot more wins than losses for me. I might not have finished a lot of projects; (sashiko pillows and starch resist dying to name a few) but that just gives me plenty of motivation to get these projects off the sewing table and into the shop for 2019.